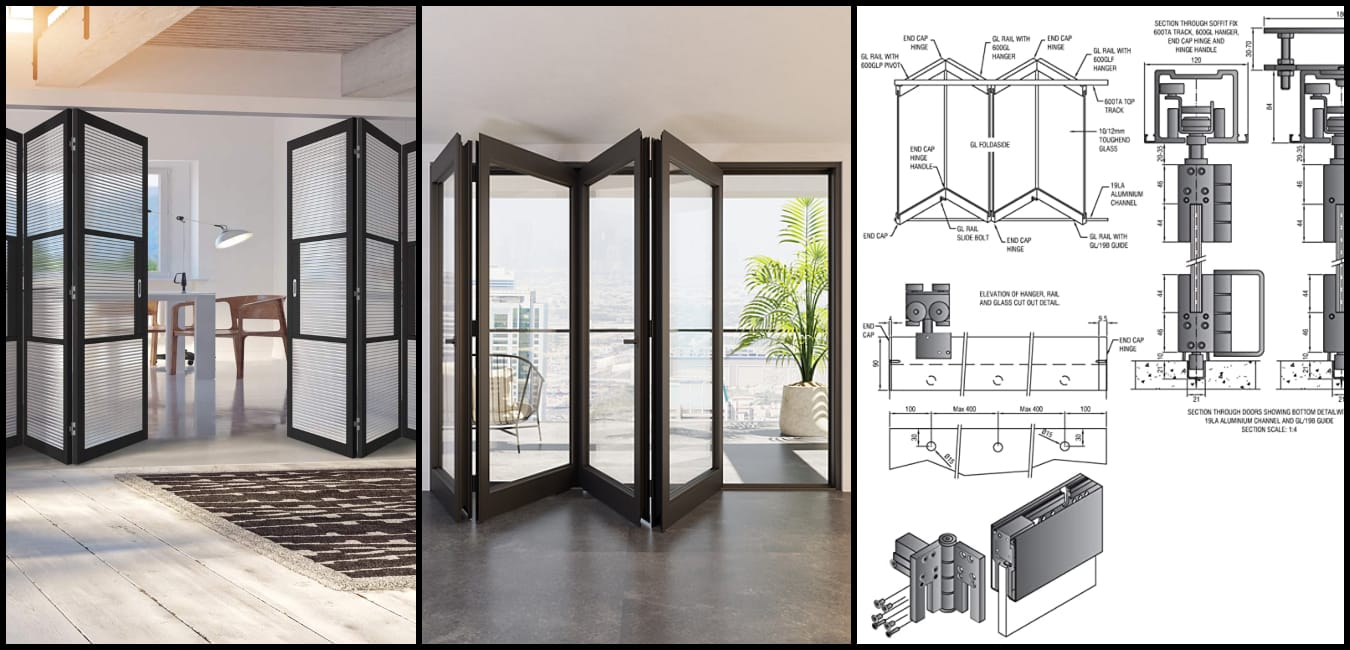 Why Investing in Folding Doors Has Always Been a Good Idea?
Do folding doors save space and add to the aesthetics? To all homeowners thinking of renovating old houses or buying new ones, you might be mulling over which type of door to choose for the interiors. The folding door is one type with multiple advantages and benefits that you may consider, and it comes in different shapes and sizes.
What are Folding Doors?
A folding door comprises several panels the user can fold or unfold to open or close the door. The door is also dubbed 'bi-fold door' or 'Concertina door' in relevance to the musical instrument. However, naming it a Bi-fold door is inaccurate as it usually encompasses 2, 4, or more panels. The panels move along a track with the aid of rollers, and the user can pull them back to one side using a knob.
From room separators to kitchen entrances, bi-fold doors are undoubtedly handy. They are suitable for separating any two spaces and can extend considerably, thus gaining an advantage over traditional doors concerning accessibility and visibility. This article will help you know more about folding doors and see if they suit your place. Now, let's get started with the materials, shall we?
What are the Types of Folding Doors?
There are three kinds of folding doors:
Many people opt for aluminum for its strength and durability; this is why it is ideal for external bifold doors. Moreover, the power of aluminum results in a frame: glass ratio greater than any other material, increasing visibility. The robust material tolerates the sun well and protects the door from bending.
In addition to coming in various colors, aluminum bi-fold doors live long and look good simultaneously. Their main disadvantage is that they are expensive, but considering all their advantages, it is an investment.
2-UPVC (Unplasticised Polyvinyl Chloride)
This is a much cheaper option than aluminum but quickly loses its good looks. In addition to longevity and bending problems, the door might gain a yellow discoloration over the years. As said before, aluminum bi-fold entries can be considered an investment since UPVC would probably cost you more for maintenance.
Great natural looks are, of course, the main advantage of wooden folding doors. Moreover, manufacturers sometimes use engineered wood, which results from binding layers of wood with an adhesive, for producing this kind of door. Although engineered wood lives longer than natural wood, its internal moisture will eventually lead to bending. Regarding maintenance, engineered wood stands between aluminum and UPVC on that scale, meaning it needs less care than UPVC but still more than aluminum.
Also Read: 7 Impressive Pivoting Doors to Make a Grand Entrance!
What are the Advantages of Folding Doors?
1) Frees up more room
Your living room can look brighter and more spacious with folding doors; rather than with ordinary ones. Folding the door will open up the space that the standard door would have occupied.
2) Safe for kids
Bi-fold doors with glass panels provide more visibility. This will enable you to watch your kids play outside, in the garden, while continuing your work inside the house.
3) Better ventilation
An ordinary door can make your rooms stuffy due to poor aeration. On the other hand, folding doors provide adequate ventilation and air circulation, making them convenient in the summer.
4) Saves up bills
Wide folding doors let in plenty of air and daylight. This could reduce the need for AC and artificial lighting.
5) Great aesthetics
The doors look fantastic. They have the potential to transform the look of interior space.
Do They Have Any Disadvantages?
1) Lack of a threshold
Lacking a threshold could be an advantage in many situations. However, the damage can be severe if water gets into a room with a wooden floor. You can avoid this by sloping the ground a little at the doorway.
2) Pricey
The price tag of a folding door is no joke, as its installation is not easy and includes a lot of frames and glass.
What About Sliding Doors?
Another closely related kind of door you may encounter is the sliding type. So, if you can't decide whether to get a folding or sliding door? Here is the low-down:
Sliding doors offer a higher glass: frame ratio when compared to folding doors, which means that the sliding door has more glass than a folding one.
Unfoldable as they are, sliding doors cannot be opened entirely, unlike bi-fold doors.
Big panes of glass do not come cheap. The bigger the sliding door is, the more expensive it gets.
What should and should not do when deciding on a folding door?
Dos
Thoroughly inspect the folding door you will buy at the retail shop to know precisely what you are dealing with.
Warranty is important.
Purchase doors that construction regulations allow.
Buy your doors from a reputable company or shop.
Don'ts
Don't base your judgment on the price tag. Invest in an expensive door that will last for years.
Don't pay the contractor until they finish the installation. Changing anything you are unsatisfied with will be difficult if you pay them beforehand.
Residents' Experiences With Folding Door Installations
The following are a few examples of folding door installations completed by "Origin," a business specializing in installing various doors.
1) Thuy Le and Quang Pham Countryside Home
Since a couple of the house works in the social media field, they shoot a lot of content in their home, making it essential for the space to be bright, airy, and stylish. The Origin internal Doors provided the perfect remedy, bringing a new light source to the area. With their striking black frames, the doors also perfectly pair with the soothing furnishings and create an ideal balance.
2) Dream Lake-House
The OW-80 Windows and Gable in Slate Grey (RAL 7015M) and the OB-72 Bi-folds helped turn this property into the ideal contemporary lake home. Every room in the house now has a spectacular view of the lake as the property was transformed into a modern, open-concept design model.
3) Steve and Julie Williams's Home
The pair decided that darker colors for the bi-folds would look best with the existing architecture of their home. When the couple finished their addition and installed the doors, they took advantage of the warmer weather by throwing open the south-facing doors in the morning. Friends and family have nothing but praise for the bi-folds and are contemplating getting some for their own homes.
4) Dual Colour Bi-fold
A total of three sets of Origin Bi-fold Doors—two collections of two-door bifold and one set of three-door bi-folds—were placed in the couple's new kitchen so they could take full advantage of the abundant natural light and enjoy a panoramic view of their garden.
These home improvers gave serious thought to the color of their doorways. The pair wanted green windows and doors because they complemented their decor. The couple made excellent use of the possibility of two different colors, and the resulting combination of classic and contemporary elements is spectacular.
Tips for Choosing the Right Folding Door for Your Home
Folding doors range widely in price, design, available colors, door height, and other specifications. There is no low-quality product on the market, but there is a wide range of options in terms of excellence, construction, performance, and efficiency. You should consider the advantages and disadvantages of various companies before settling on one. This is what you should watch out for.
1) Size
To determine what size bifold doors will work best for your home, you must first select the height of the opening they will be installed into. The door installer you hire will typically visit your home to take measurements and make recommendations based on those measurements.
It is recommended that a minimum of a three-panel set of 600mm wide aluminum panels be used for installing bifold doors. Still, in practice, the width of individual panels is more likely to be in the 800mm to 1200mm range, making 2400mm a more precise estimate of the narrowest opening.
Standard metal panels are 1,000 mm x 2,800 mm and can be double or triple-framed.
Depending on the manufacturing and openness, specialized wooden doors can be as large as 4,000 x 1,100 millimeters and have as many as 16 panels in a single frame.
2) Door Configuration
You can begin planning the folding door layout once you know the opening's dimensions. Many vendors provide expert guidance and are happy to discuss options with you. A whole space can be made with an odd number of panels because they stack neatly. A "master door" that can be opened independently of the other folding doors is convenient, as it will be placed on the side like a regular door.
3) Material
The appearance, functionality, and price of your bifold doors can all be affected by your chosen material. We've reviewed the three most prevalent varieties and their advantages and disadvantages. It's essential to weigh the gains and losses of a given substance before making a final decision.
4) Cost
There is a wide range of prices for bifold doors because of variables like dimensions, material, and quality.
For a high-quality system with premium glass and hardware, you should budget around £1,400 per panel.
(not including VAT) and assembly. Think about taxes and shipping costs as well.