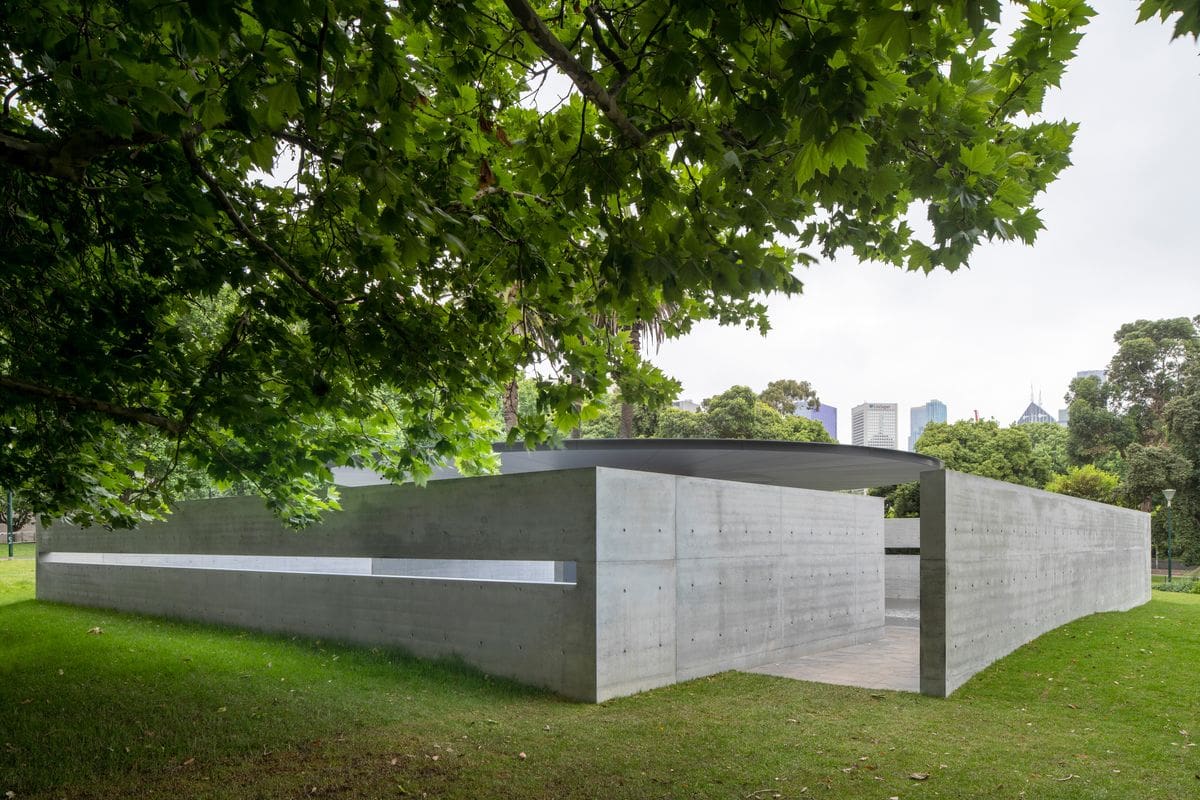 Tadao Ando's MPavilion Opens In Melbourne
About Tadao Ando's MPavilion Opening
MPavilion 10, the latest phase of the celebrated architectural project  designed by Tadao Ando, ​​opens in Melbourne. This milestone marks the 10th anniversary of the Tadao Ando's MPavilion program led by the Naomi Milgrom Foundation. Ando Design, a first in Australia, demonstrates a unique approach to incorporating bold geometric elements into the natural environment, with concrete executed accurately and reliably. The opening ceremony kicks off an exciting five-month design festival with more than 150 participants and incredibly free events. Since its inauguration in 2014, the MPavilion has established itself as a highly anticipated and spectacular festival, attracting 350,000 visitors in its ninth season.
Concept Of Tadao Ando's MPavilion
Pre-opening photos of Tadao Ando's MPavilion show the meticulous construction of the humble and accessible M Pavilion in Melbourne's Queen Victoria Gardens. The building pays homage to traditional Japanese gardens with the addition of a reflecting pool. The main structure is surrounded by concrete walls and decorated with aluminum cladding. One notable feature is the 47-foot-wide ceiling that covers the pavilion.
The architecture of the MPavilion presents a visual narrative that reflects the architect's enduring interest in the interplay of light and darkness. Tadao Ando revealed that the design is intended to be not timeless or materialistic but a lasting impression of the surrounding landscape. The entrance to the pavilion will be joined by an extensive program of events and public events, with more than 100 unique experiences. These events are organized around three different themes inspired by Ando's philosophy: memory of place, craft, and A Blank Canvas. Additionally, ten commissions from various groups and artists will be displayed at the festival.
In addition to the grand opening, the festival's first week will kick off a series of exciting events and free celebrations. These include the seventh BLAKitecture stage, a fashion show featuring RMIT University students, a series of MTalk talks, and a DJ competition designed to showcase and support aspiring female musicians.
MPavilion Commissioner Naomi Milgrom finally added: "The architects, artists, designers, and thinkers with whom we are collaborating reflect the creativity, diversity, and vibrancy found in Melbourne, a local and global center of design. We can't wait for locals and visitors alike to experience Tadao Ando's iconic MPavilion design as they join us for events during our milestone season."