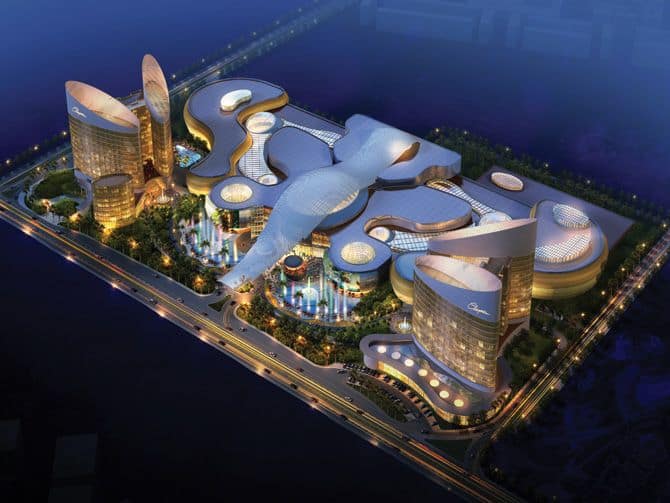 Cleopatra Mall | Design International
Cleopatra Mall
Designed by world renowned retail architect Davide Padoa of Design International, the Cleopatra Mall project will create a new landmark building in 6th of October City on the outskirts of Cairo.
The concept takes ancient Egyptian laws of geometry, proportion, and symmetry into the 21st century and the resulting architecture is contemporary and organic in design, reflecting on the past and looking into the future at the same time.
The iconic design is characterized by a gigantic canopy that covers the central area of the scheme with a span of over 200 meters. This grand gesture, defined by Padoa as 'a wave in the desert', is an architectural statement that covers both internal and external activities.
The wave canopy marks the project's symmetry, which is further enhanced by the design of two towers at the corners of the site, a luxury hotel located on the left, and on the right, an office building suited as a global headquarters. Outside, the most distinctive feature is a 20,000 sqm artificial lake with waterfalls and a cybernetic fountain feature. The lake will also incorporate an evening laser beam display with musical accompaniment, creating an exciting and refreshing oasis of tranquillity in the new heart of 6th of October City.
One of the main challenges for the retail concept of Cleopatra Mall was to provide a shopping and entertainment mix that caters for the varied needs of the mall's customers. DI Leasing, with its specialist knowledge of the Egyptian market, undertook thorough research to establish an understanding of the target clientele, which is a mix of affluent and educated residents living in the surrounding 6th of October City, the wider population of Cairo as well as international visitors coming to the area as tourists or on business. The result is a balanced combination of retail, leisure and food & beverage. Each of these main categories is then divided further to ensure that the range of services covers all potential needs, whether it be VIP luxury shopping or the traditional fresh market.
Project Info
Architects: Design International
Location: Cairo, Egypt
Year: 2017
Status: Under Construction
Type: Retail