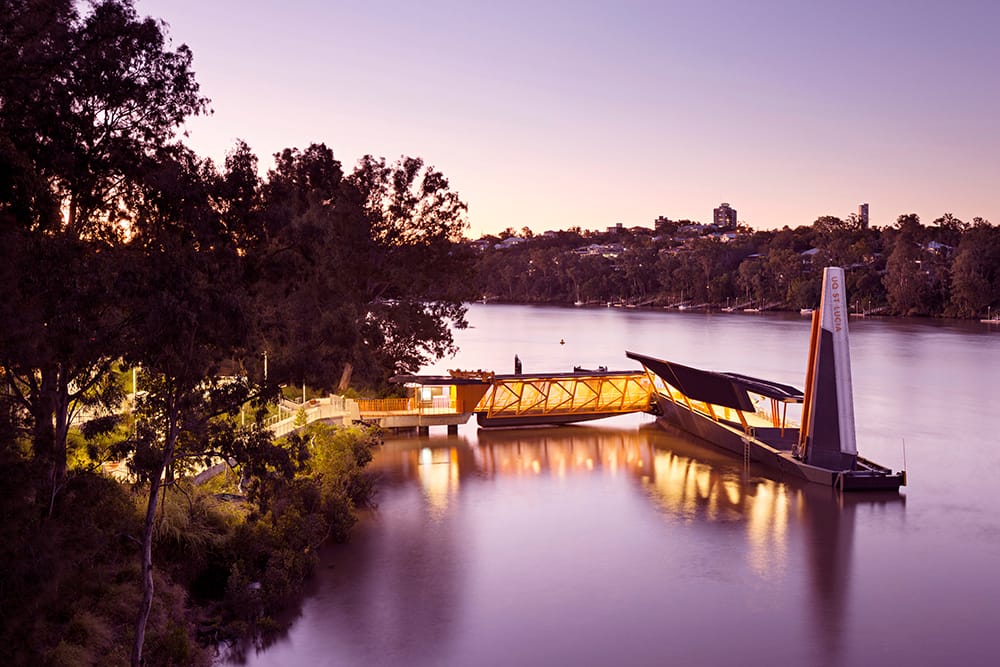 Brisbane Ferry Terminals | Cox Architecture
The Brisbane Ferry Terminals Project has been recognized with the 2017 Good Design Award and the United Kingdom's ICE Brunel Medal of Excellence for its groundbreaking approach to ferry infrastructure.
Cox Architecture and engineering firm Aurecon worked together to completely redefine ferry terminals following the tragic and destructive Brisbane Floods in 2011.
In 2011, Brisbane experienced severe flooding that caused extensive damage, including the collapse of the existing Ferry Terminals. This event served as a symbol of the catastrophe. The destruction caused by the floods and the impact on the river terminals prompted an International design competition to seek a resilient solution.
Cox Architecture and Aurecon collaborated to create flood-resilient terminals that improve the river travel experience in Brisbane. The terminals are highly recognizable and contribute to the city's goal of becoming a
sustainable
and accessible new-world city.
The Concept Of Brisbane Ferry Terminals
The concept entailed a complete reimagining of the traditional design of ferry terminals, with a focus on both the structural and aesthetic aspects. Instead of relying on bulky and heavy materials to withstand the forces of nature, Cox Architecture's approach utilizes the inherent laws of nature to develop a more resilient and sustainable infrastructure for the future.
In order to provide an integrated response, there are three mechanisms of resilience. The first mechanism involves the use of a single tall defensive pier instead of multiple piers that are used to surround previous terminals. This pier is positioned at the upstream end, and its purpose is to deflect debris and vessel impacts.
The second point is about designing a gangway with floatation tanks. This gangway can lift off a pin and rotate out of harm's way in the event of rising flood waters. This allows debris to pass through. After the flood waters recede, the gangway can be rotated back into its original position.
The third approach involved designing the structure of the pontoon in a boat-like manner, which helped deflect debris and reduce resistance during flooding.
In order to improve public interaction with the river and accommodate individuals with
disabilities
, the terminals were created. A unique gangway system was created that consists of suspended floor platforms that adjust to the tide and pivot to maintain a ramp angle that meets accessibility requirements.
The waiting area is located directly on the water, making it easier for people to board and create new floating public spaces. By removing a large number of support pillars, visitors can now enjoy panoramic river views while sitting under the extended roof, which allows them to appreciate the river from a unique perspective.
Project Info:
Architects:
Cox Architecture
Year:
2014
Manufacturers:  Alucoil, GKD Metal Fabrics, Sculptform
Landscape Design: Lat27
Engineering: Aurecon
Construction: McConnell Dowell
Client: Brisbane City Council