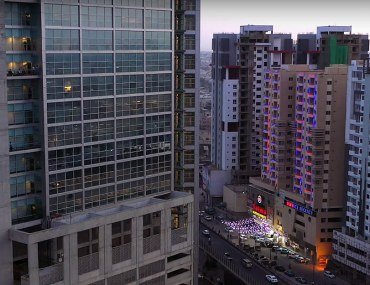 Top Apartment Projects for Investment in Karachi
The urban landscape of Pakistan's largest metropolis, Karachi, has been dotted with high-rise and mid-rise developments, which have transformed it into a concrete jungle. It is now known as the 'city of skyscrapers'—and rightly so. 
Ultramodern residential and mixed-use complexes—rising dozens of stories up in the air—now dominate the skyline of Karachi, adding to the diversity of its real estate market and luring apartment seekers from all over the country.
So, if you are also planning to buy a flat in the City of Lights but finding it hard to pick the right project for investment, then this blog is meant to help you. Here we have come up with a detailed round-up of the top apartment projects in Karachi, discussing their location, amenities, property options, and investment potential.
BEST APARTMENT PROJECTS IN KARACHI IN 2022
Now, without any further delay, let's get started with the list!
CLIFF VISTA
When discussing the best apartment projects in Karachi for investment, we could never miss out on mentioning Cliff Vista. Being developed within the heart of Gulshan-e-Iqbal Karachi, it is one of the most successful real estate ventures by Mehran Enterprises (Pvt) Ltd.
It is a grand-scale project based on five residential towers, each 19-storey tall. The development work of the project is in full swing. The grey structure of almost all the towers has been completed and the vertical residential complex is taking its final shape, all set to leave its mark on the skyline of Karachi.
Directly connected with the main Rashid Minhas Road in the locality of Gulshan-e-Iqbal, Cliff Vista enjoys a highly convenient location. The upscale apartment complex can be easily accessed from many major facilities, landmarks, and expressways nearby.
Landmarks and facilities like Aladin Amusement Park, Nipa Chowrangi, Millennium Mall, Nueplex Cinema, and Darul Sehat Hospital are just a short drive away from Cliff Vista. The unique architecture and location of the high-rise apartment complex allow it to enjoy a 4-side open design, offering panoramic views of the city.
With great investment potential, Cliff Vista is one of the most lucrative investment opportunities in Gulshan-e-Iqbal, Karachi. Up to 35% capital gains have been predicted for this residential complex just within a year. On top of that, the project also guarantees a 5% rental yield to its investors.
ROOMI ICON
Roomi Icon is one of the latest and most welcoming additions to the ever-expanding skyline of Karachi. It is a masterfully planned apartment high-rise that is envisioned to offer an ultramodern experience. The structure of the building stands 26 stories tall, which makes it the highest residential tower in its surrounding locality. 
The project's super convenient location is also one of its biggest selling points. Located in a peaceful neighborhood, Roomi Icon is directly linked to main Jinnah Avenue and is conveniently accessible from Askari V (Malir Cantt.), Karachi-Hyderabad (M9) motorway, Sadi Town, and main University Road among other landmarks and facilities.
The ultramodern layout paired with unobstructed views of the city greatly uplifts the charm of the overall living experience offered by Roomi Icon. From apartments to penthouses, the project caters to a wide audience of apartment seekers and investors.
While investing in Roomi Icon, you can either choose between 2 and 3-bedroom apartments or pick one of the 3 and 4-bedroom duplex penthouses. Keeping in view the current market trends, properties in Roomi Icon are expected to generate a high rental yield within the next few years.
As an ultramodern apartment complex, Roomi Icon offers a sophisticated living experience driven by many different types of top-notch amenities and facilities. Residents of the project will have access to round-the-clock security and maintenance staff, a lobby lounge with a coffee shop, high-speed elevators, reserved car parking, a dedicated prayer area, and many other high-end features of the project. 
Roomi Icon also enjoys the nearby presence of some top-notch educational, recreational, and healthcare facilities, which is a major plus. All these prominent characteristics make it one of the best apartment projects in Karachi.
AZIZ EXCELLENCY
The state-of-the-art design and planning of Aziz Excellency promote the concept of modern living. The project offers highly comfortable and luxurious urban arrangements. The stunning elevation of this high-profile project is all set to grace the skyline of Surjani Town in Karachi.
Aziz Excellency features an eclectic mix of intelligently designed apartment units and commercial shops. Since it is being developed in a highly sought-after location, investing in this prominent real estate venture is bound to translate into high investment returns.
Located in Sector 11-A of Surjani Town, K.D.A Scheme-41, Aziz Excellency enjoys easy access to many different types of urban facilities nearby, such as a masjid, shops, public parks, and educational and healthcare facilities. Living in Aziz Excellency, you'd get to enjoy 2 floors of car parking in a secure and fully facilitate environment. You can easily invest in this project due to the availability of super convenient payment options.
AL RAUF NORTH VISTA II
Al Rauf North Vista II is another prominent apartment high-rise in the City of Lights. The project has an ultramodern design and boasts top-notch living features. Along with G+12 storeys, the apartment has been smartly planned with 2 basements.
Al Rauf North Vista II spans 1000 sq yd, thus featuring spacious and contemporarily planned accommodations, ensuring a grand living experience. Al Rauf North Vista II is rising from North Nazimabad Block A — one of the most upscale and busiest neighborhoods in the city.
Given its strategic location, the project is just a short drive away from popular expressways like Dr. Adeeb Rizvi Road and Sher Shah Suri Road, enjoying direct access and signal-free routes to different parts of Karachi. This SBCA-approved project also comes with a variety of other modern-day features including 24/7 security and surveillance, a fire fighting system, and high-speed elevators, among other facilities.
THE MEGA MALL & RESIDENCY
The Mega Mall & Residency is one of the most centrally located mixed-use developments in Karachi that enjoys the prime location of Johar Chowrangi. Along with offering the best-in-class living experience, the project is also envisioned to offer a state-of-the-art retail experience to visitors. It is a grand-scale development designed to host world-class commercial and lifestyle arrangements. 
The structure and finishing work of the podium and lower stories of the project has always been completed. One of Karachi's largest Chase Up Departmental Stores has also opened its doors in The Mega Mall & Residency.
Occupying a prime spot near Johar Chowrangi, right within the heart of Gulistan-e-Jauhar, the strategic location of The Mega Mall & Residency makes it easily accessible from many other popular neighborhoods in the city as well as major facilities. The project is only a stone's throw away from Darul Sehat Hospital, Habib University, Safari Park, Mosmiyat Chowrangi, Aladin Amusement Park, Millenium Mall, and many other prominent landmarks.
The high-end mixed-use building of The Mega Mall & Residency features flawlessly designed apartment units and masterfully planned commercial spaces. The upper storeys of the complex are specifically for residential purposes and comprise 2- and 3-bedroom apartments.
Along with guaranteeing a 6-7% rental yield to investors, The Mega Mall & Residency is also expected to secure up to 40% capital gains within the next few years. It is one of the safest investment opportunities in the city, which is the brainchild of Mega One Properties — a highly regarded name in the construction industry.
EXECUTIVE RESIDENCY
Envisioned as a high-end residential complex, Executive Residency is another noteworthy development located on the main Jinnah Avenue in Bahria Town Karachi. The project has been equipped with extraordinary living features and is surrounded by all modern-day neighborhood amenities — promising a sophisticated lifestyle to its residents.
Executive Residency is a part of a secure community with 24/7 CCTV surveillance, which makes it an ideal option to look for your perfect family apartment in Karachi that is not only comfortable and secure but also equipped with high-end features, such as covered car parking, standby generators, uninterrupted supply of gas and water and high-speed elevators
As a world-class residential building, Executive Residency features an eclectic mix of marvelously designed 2- and 3-bed apartments as well as ultra-spacious penthouses. Since the project is directly connected to the main Jinnah Avenue, it is just a short drive away from many popular locations in the gated community, such as Bahria Adventure Land, Imtiaz Mega Departmental Store, Bahria Hospital, Dream Mart, Precinct 2 Recreational Park and Bahria Town's main entrance among other facilities.
ATHAR'S AMAN CASTLE IN BAHRIA TOWN KARACHI
Located just a short stroll away from Bahria Adventure Land, the world-class residential complex of Athar's Aman Castle is a joint venture of Almas Builders and Developers and Athar Associates. As the name suggests, the project is envisioned to offer you a royal lifestyle in Bahria Town — one of Karachi's most brilliantly planned gated communities.
Athar's Aman Castle is a tall vertical complex based on a single tower that rises 22 storeys high above the ground. The project only features corner apartments, offering unobstructed views of the serene neighborhood. Moreover, since it is a high-end development, all the apartments in it have been equipped with modern interiors and fittings.
The top-notch apartment complex in Bahria Town is envisioned to provide you with an awe-inspiring urban experience driven by state-of-the-art facilities and amenities like foolproof safety measures with 24/7 CCTV surveillance, play area for children, modern high-speed elevators, spacious and stylish prayer hall with ablution area, open-air swimming pool, world-class gymnasium, and much more.
Athar's Aman Castle enjoys an extraordinary location in Bahria Town, which not only offers you a highly convenient lifestyle but also promises you high capital gains in the next few years. Landmarks like Bahria Town's main entrance and Imtiaz Supermarket are only just a few minutes drives away from this prime spot near Bahria Adventure Land.
This was a comprehensive round-up of the top apartment projects in Karachi. If you are interested in investing in the aforementioned vertical developments in the megacity, just fill out the attached form or click on the WhatsApp Icon to connect with us right away.