Top Road Construction Company in Pakistan
WELCOME TO
ACCO ROADS CONTRACTING COMPANY
Road construction services from ACCO – test and assess the performance and durability of road materials and products.
The company has gradually grown and in July 2008 established RAD Asphalt Factory and in 2020 Thermoplastic road marking Paint Factory and in 2021 company developed by the erection of two Asphalt batching plants which are now carrying out projects all over  Pakistan.  RAD INTERNATIONAL is equipped with a huge quantity of machinery and sufficient qualified workforce with high experience in the road construction field.
Works undertaken include:
Cut and Fill, New Road Construction, Road Widening, Car Parks, Milling, Access Roads, Road Maintenance, We offer our well-trained workforce the opportunities to widen their technical knowledge and skills and enrich their experience with modern equipment, and an extensive setup where operations from start to finish are managed in-house. The success of RAD International is built around leadership of the highest caliber and a highly skilled and motivated workforce, who aim for the timely completion of high-quality projects by effectively using modern equipment in the safest, most economical, and efficient way.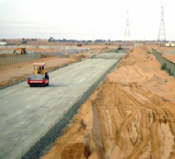 ACCESS ROADS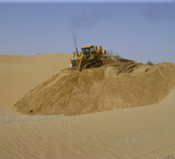 CUT AND FILL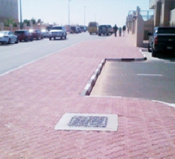 FOOTPATH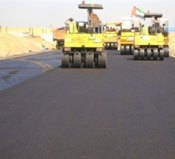 NEW ROAD CONSTRUCTION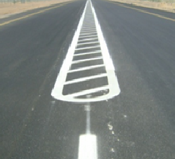 ROAD MARKING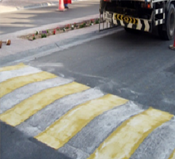 ASPHALTIC SPEED HUMP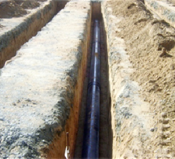 DRAINAGE SERVICES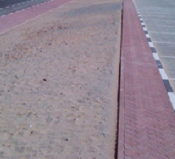 HARD/SOFT LANDSCAPING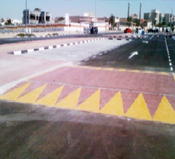 PEDESTRIAN SPEED HUMP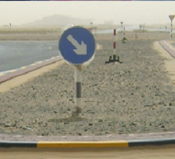 ROAD TRAFFIC SIGN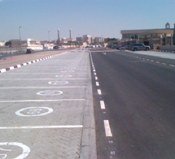 CAR PARKS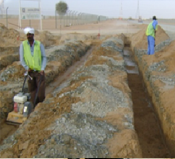 ETISALAT GROUND WORKS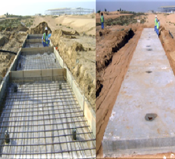 IN SITU PROTECTION SLABS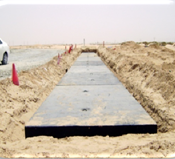 PRE-CAST PROTECTION SLABS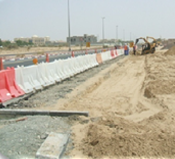 ROAD WIDENING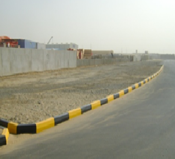 KERBSTONE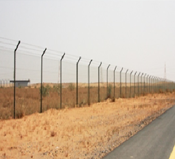 FENCING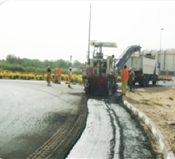 MILLING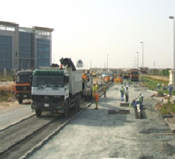 ROAD MAINTENANCE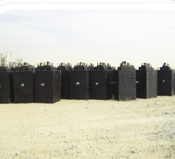 STREET LIGHT
Transport and mobility are a key part of today's society. Roads must be durable and safe otherwise they present a danger to their users and the environment, as well as increasing repair costs. However, because they are exposed to varying (and extreme) conditions it is not easy to construct and maintain strong and durable roads. Also, the quality of components in road products, especially bitumen, can vary widely.
Our road construction services help you to understand the behavior of road materials in relation to expected loads and deterioration mechanisms. We have the experience and expertise to test and assess the performance and durability of road materials and products.
Road construction services include:
Assessment and improvement of asphalt properties
Determination of asphalt component quality and suitability (bitumen, aggregates also secondary)
Development of new road products, including roll pave and road materials
Assessment of damage to (overheated) asphalt
Laboratory testing of bitumen, including composition (PAH and rheology/viscosity)
Calculations of the CO2 footprints of semi-heated asphalts
Assessment/testing of expansion joints
Determination of the maintenance condition of existing roads, drawing up subsequent maintenance/repair plans
Service life predictions
Controls of road mixture designs and auditing/inspection of road product application
WHY CHOOSE ACCO?
In January 2004, we acquired a leading national benchmark in the construction industry. ACCO offers clients tailor made solutions for road construction:
Expert personnel and a professional laboratory for testing building materials
Fit for purpose solutions for any type of client, whether it be government, designer, contractor, (raw materials) supplier
State-of-the-art knowledge. ACCO is a forerunner in new developments in road construction. We have participated in the development of several new road products, including roll pave and silent joints
Impartiality. ACCO is an independent and impartial institute, and can therefore function as an impartial third party
Contract our road construction services to support your organization. Contact ACCO today for more details.