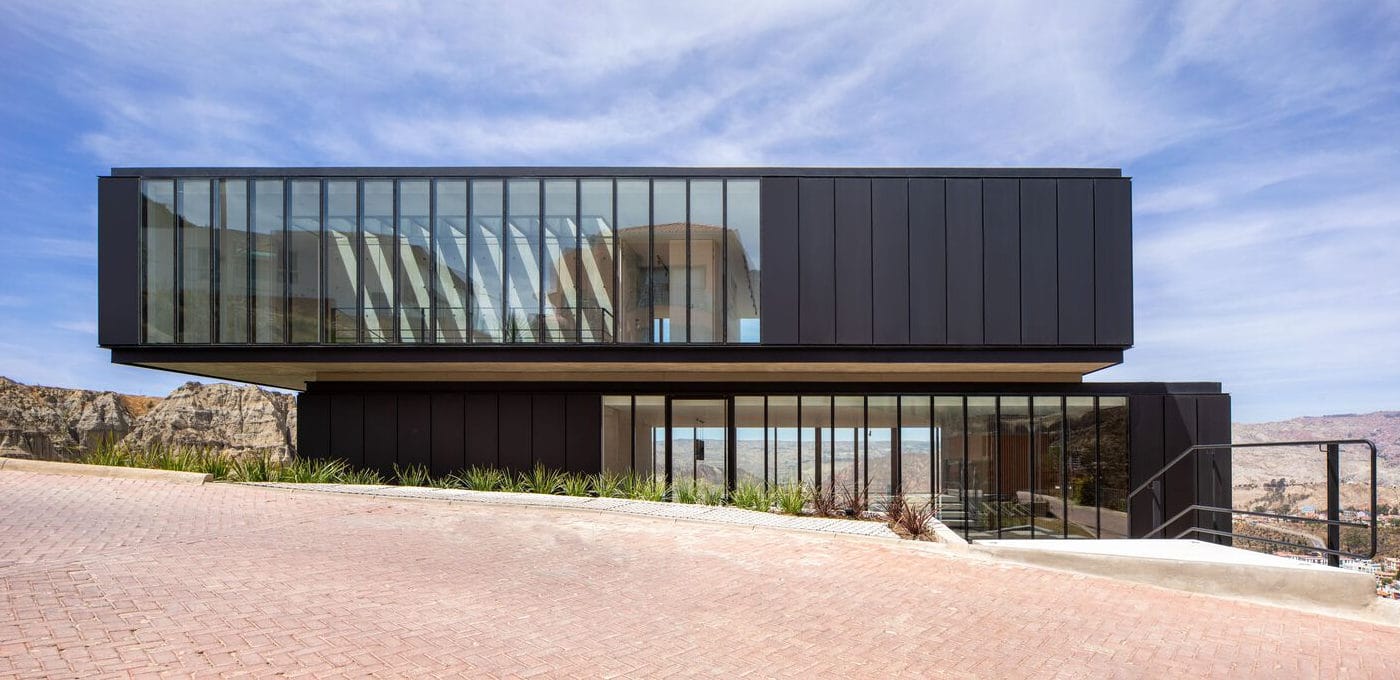 Mirador House | Sommet – Arch2O.com
Mirador House's Design Concept
Casa Mirador is located on a 509.00 m2 lot in the department of La Paz, Bolivia, and stands out for its unique design and location. Mirador House is formally planned in three volumes that integrate harmoniously into its surroundings. The lower volume is embedded in the sloping topography, forming a base close to the level of the main street to support the subsequent volumes. The second volume, corresponding to the first floor, moves closer to the main street, freeing part of the covered surface of the lower volume, forming the Mirador, the main attraction of the house.
Functionally, Mirador House's floors are quite clean, as a result of the structural modulation, which allows reducing the number of vertical enclosures, generating open spaces that do not compromise privacy or isolation. This is because, although they have doors that divide the spaces, they can be hidden behind cladding or furniture, giving the house the flexibility to close or unify the space.
The different rooms have been strategically located in the house. On the façade facing the main street are the horizontal and vertical circulations, as well as the spaces of lesser use, in order to provide greater privacy and privileged views to the main and most used spaces, such as the bedrooms, living room, dining room, kitchen, and office. These last rooms are located on the rear facade, opposite the main street, and offer the best panoramic views of the city, giving the inhabitants of the house the feeling of being in a perpetual viewpoint.
As for the materials used, priority has been given to purity and quality. These materials are meticulously selected and placed from the beginning of the project. Materials such as exposed concrete, steel, riven wood panels in the interior of the house, and floor-to-ceiling glass panels that offer exceptional transparency can be appreciated.
Project Info:
Architects: Sommet
Area: 509 m²
Year: 2022
Photographs: Paul Renaud
Manufacturers: Aluvi, AutoCAD, Gladimar , Knauf, Ramon Soler, Roca, VASA
Lead Architects: Sebastián Fernández de Córdova, Mariano Donoso, Erika Peinado, Sandra Molteni.
Structure: Fernando Aragón
Sanitary Installation: Federico Ferrufino
Electric: Reynaldo Cabrera
AC: AMC
City: La Paz
Country: Bolivia