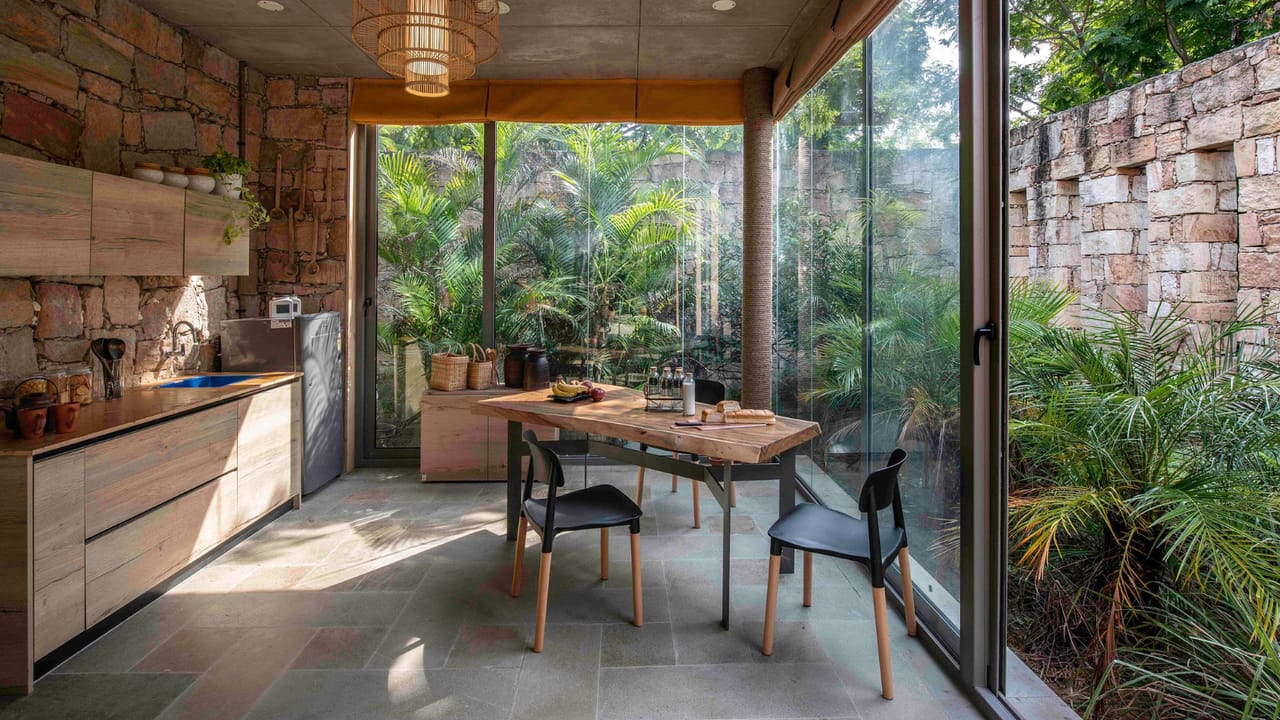 5 dreamy green kitchens that inspire a refreshing aesthetic
Who wouldn't love to enjoy a cup of coffee and breakfast in the midst of natural greens? These green kitchens from the archives of AD India bring to you nooks that have been catered for dreamy experiences in the midst of nature, evoking a sense of calm and renewal in the heart of the home.
A Glass-Walled Ahmedabad Kitchen Brings Nature Indoors
This weekend home on the outskirts of Ahmedabad makes a good case for stone masonry. Designed by Ahmedabad-based The Grid Architects, the Rock House exemplifies one of nature's purest structural materials not only in its form, but also in its aesthetic. The result is a glimmering rustic home that seems completely at ease with the elements. The structure is crafted in raw Dhrangadhra stone masonry, underlined with leather-finish kota stone flooring and fitted with an exposed concrete ceiling. The H-shaped layout comprises two main sections: the living room with attached dining and kitchenette, and a master suite. Both sections are connected across a courtyard, so as to receive maximum exposure to the outdoors, to simulate the experience of being nestled within nature.
The glass-walled living room is a large space that accommodates a dining area and small kitchen, surrounded by native greenery. Along the south-west corner is a covered-courtyard, populated with insect repellent plants and bordered by a stone wall that provides protection against direct sunlight. – Avantika Shankar
Also read: Ahmedabad: This UFO-shaped weekend villa is an otherworldly escape
This Linear Kerala Kitchen Is In Dialogue With The Courtyard
This 5,414-square-foot, two-level bungalow designed by Reny Lijo and Lijo Jos of Lijo.Reny architects, in Chavakkad, Kerala, is set apart by the use of a spirited tangerine as an accent colour, and its use of metal furniture. The photogenic Kerala home is filled with a contagious energy courtesy the orange, black, white, and the grey hues that appear on the walls, furniture, wall art, metal fabrications, decor items and soft furnishings. As for the clients' brief? It was brief. "We want to enjoy the rain, from every room of our house," they said. So Lijo proceeded with not one or two, but three large, double-height open-to-sky courtyards. "All the main rooms open into the courtyards, allowing the occupants to enjoy the rain, light and breeze with the changing seasons from the comfort of their rooms," says Reny.