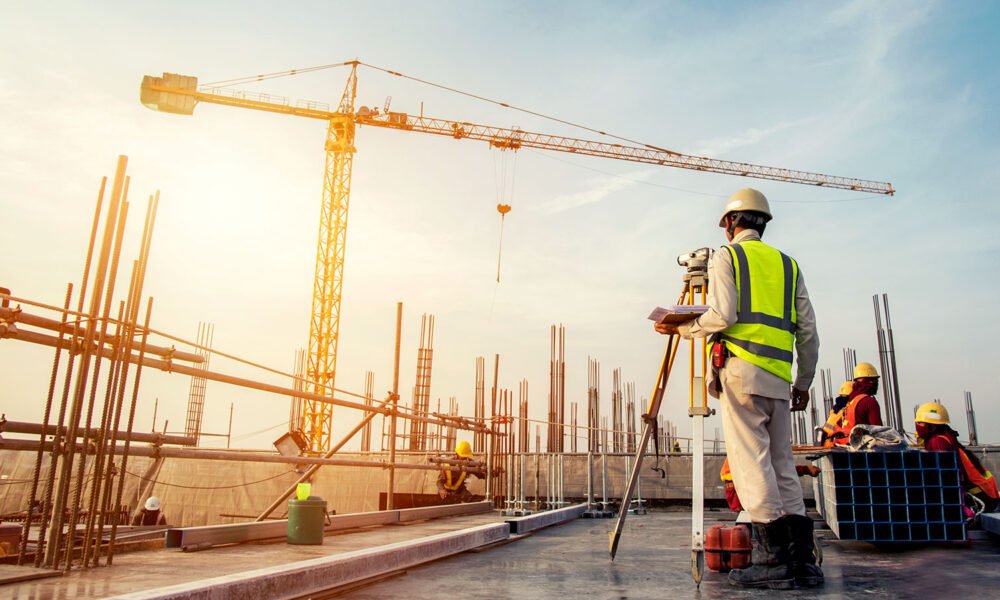 Commercial Construction Services
ACCO is a top commercial construction company in Lahore, providing a wide range of high-quality building services to clients. The company has established a reputation for excellence in construction, and its team of highly skilled engineers, architects, and builders is dedicated to delivering commercial construction projects that meet each client's specific needs and requirements.
ACCO's commercial construction services cover a wide range of projects, from small-scale renovations to large-scale high-rise buildings. The firm's team of engineers and architects works closely with clients to understand their goals, preferences, and budget, and develop construction plans that reflect their vision and aspirations.
One of the key strengths of ACCO's commercial construction services is the team's attention to detail and commitment to quality. The firm's builders use the latest technologies and materials to ensure that each project is constructed to the highest standards of quality and durability. ACCO's engineers and architects also prioritize safety and incorporate the latest safety features into their construction plans.
ACCO's commercial construction services prioritize functionality, aesthetics, and comfort. The firm's team of engineers, architects, and builders strive to create commercial buildings that are not only visually stunning but also functional and practical. ACCO's builders are also skilled in using the latest technologies and materials to create cutting-edge designs that meet modern construction standards.
In addition to its commercial construction services, ACCO has also completed several notable institutional projects, including hospitals, schools, and shopping centers. The firm's institutional construction services prioritize functionality, safety, and sustainability, and they are designed to meet the unique needs and requirements of each client.
ACCO's commercial construction services are highly regarded in Lahore, and the company has completed several high-profile projects in the city, including high-rise buildings, commercial complexes, and shopping malls. The firm's commercial construction services prioritize comfort, functionality, and aesthetics, and they incorporate the latest technologies and materials to create commercial buildings that are both beautiful and functional.
Overall, ACCO is a top commercial construction company in Lahore that is dedicated to delivering high-quality projects that meet each client's specific needs and requirements. The firm's team of skilled engineers, architects, and builders prioritize quality, safety, and sustainability in their construction plans, and they are committed to delivering commercial buildings that exceed client expectations. ACCO's attention to detail, commitment to quality, and use of the latest technologies and materials set it apart as a top commercial construction company in Lahore.
You have come to the right site if you're seeking a qualified, skilled commercial contractor in Lahore. At ACCO, we provide building and business owners around Lahore with high-quality complete commercial construction services. We provide the best Commercial Construction Highrise Building Services in Pakistan. We have designed everything best for our clients as our group of skilled and knowledgeable architects, engineers, contractors, and builders have made it their mission to innovate and excel in the way construction services are provided. Since our establishment in 1999, we have developed upscale residential and commercial projects. To meet and surpass your expectations, we work extra hard and are extremely passionate about what we do.          
The building is a very old human activity. The requirement for a controlled environment to mitigate the effects of climate was first merely functional. One way that people were able to adapt to various climates and become truly global species was through the use of built-in shelters. Building Services.
Construction Services We Offer
Top commercial builders in Pakistan services provided by ACCO have contributed significantly to the company's expansion and recognition as a reliable partner and enabler. We are a full-service commercial construction firm based in Lahore with a long list of accomplished commercial projects to our credit. From tiny to medium-sized retail stores, big box stores, fast food chains, designer outlets, and medical facilities to shopping complexes, warehouses, office & institutions' buildings, and plazas, the types of projects we have worked with great range.
Residential Building Construction
The first kind of construction is residential housing construction, which entails the construction, renovation, and repair of buildings or Apartment Buildings used to house people, goods, or technology. Office Buildings, Highrise Building, townhomes, condominiums, nursing homes, dorms, etc. are all included. The term "residential constructions" also refers to garages and other outbuildings like utility sheds. As was already noted, residential construction also entails the maintenance and installation of utilities like electricity and water throughout the building. Building Services Engineers and architects typically plan residential housing projects, and construction firms carry them out by hiring subcontractors to handle the project's mechanical, structural, and electrical work. However, for single-family homes, builders often handle both the design and construction processes.
Institutional And Commercial Construction
ACCO is a perfectionist in construction services as it is one of the best ones and all the projects are designed and built with the best quality in Highrise building design and construction. These projects include building schools, sports stadiums, Shopping Mall Construction, Hospital construction, retail outlets, and towers. Similar to the construction of residential housing, institutional and commercial building entails both the construction of new structures as well as the upkeep and repair of existing facilities. A business or private owner typically commissions a project like a retail store. Both the local and federal governments frequently fund and oversee other projects including athletic stadiums, educational institutions, and healthcare facilities.
Amazing Specialized Industrial Construction
The third category of construction we provide involves building structures that demand a high level of specialization as well as technical planning, building, and design skills. This kind of construction is typically carried out by Commercial Plaza construction or for-profit businesses. Examples of specialized industrial constructions include oil refineries, which can be built by the chemical industry, and nuclear and hydroelectric power plants, which can be built by the power-generating industry.
Heavy Construction and Infrastructure
The final category of construction is infrastructure and heavy construction or Commercial Complex Construction, which includes developing new roads, railroads, and communications systems as well as constructing new buildings or renovating older ones. This kind of building is typically carried out in the public interest and is frequently carried out by governmental organizations and significant private enterprises. Other construction projects that fall under this category include pipelines, tunnels, bridges, and highways as well as transit and drainage systems.
Why Choose ACCO For Commercial Construction Services
ACCO is the best construction company in Lahore the goal of ACCO is to focus on providing the highest level of customer service while delivering a high-quality product as rapidly as possible while minimizing the disruption caused by construction. Our strong suit is paying close attention to detail and delivering work of unmatched quality, on time, and under budget. Our staff is devoted to gaining the total satisfaction of every client we work with. Overall, we think that communication is the most important factor in any project's success. We provide the best features which make us the top commercial builders in Pakistan.
Creative And Innovative Ideas
While following the tried-and-true industry best practices, we offer creative designs. We have the know-how, tools, and cutting-edge methods to turn your concept into reality. We make an effort to keep disruptions to a minimum for you, your neighbors, and the neighborhood by placing skips responsibly, scheduling building material deliveries sensibly, and reducing noise.
Due to the effectiveness, superiority, and professionalism with which we supply our goods and services and respond to consumer inquiries, we have developed a strong reputation.
Our team is made up of knowledgeable and experienced individuals committed to providing high-quality finished goods and services within the specified period. Our design staff has a wealth of knowledge and can provide a variety of styles, from modern to traditional, cutting edge to inventive.
They are completely knowledgeable about the most recent planning regulations, and their experience and professional counsel enable clients to make well-informed decisions regarding the project's design. Each customer may feel secure regarding color schemes, textures, material selections, and accessories thanks to their knowledge, which all help to ensure that the finished project is one-of-a-kind, innovative, and polished to the highest standards.
ACCO especially takes care of all the environmental safety as all of our projects are energy-efficient to reduce heating and living costs as part of our commitment to having a low carbon footprint.
Contact Us
Many construction companies in Lahore are doing great work but ACCO is the one who takes care of all the small details in every sense starting from pre-construction to post-construction everything is based on client demand and satisfaction. To make your construction the dream construction contact us, or if you have a type of query, you can visit our website which is followed,  http://www.acco.com.pk/ our experts are always ready to help you.