Architects in Karachi | Top 8 Architecture Firms in Karachi
ACCO has tried here to list down the 8 top Architecture Firms / Architects in Karachi, arranged in alphabetical order. Karachi has a variety of architecture, built by Hindu princes, British rulers, religious churches, and local architects that boast designs inspired by Mughal, Gothic, Venetian, and Victoria aesthetics. It is the world's sixth-most populous country, and its recent urban development is informed by a property boom tied to overpopulation and past political interventions. Informed by the coexistence and juxtaposition of conditions like regulated development and informal settlements in Karachi and Islamabad, modern designs are being shaped by broader contexts. In turn, these public and private projects are exploring new spaces and forms.
Today, the new architecture of Pakistan tiptoes between physical and social dimensions as it reflects the ethnically and linguistically diverse Islamic republic. Architects and designers were influenced by international trends, building both skyscrapers and new low-rise developments alike, thanks to the work of the architects in Karachi.
ACCO | Top Architects in Karachi Pakistan
Scope of services: Interior design, Architectural design, Planning
Types of Built Projects: Residential, Commercial, Institutional, Cultural, Entertainment, Hospitality, Industrial, Healthcare
Locations of Built Projects: Pakistan and Overseas
Style of work: Strives for an architecture that is innovative.
Website: www.acco.com.pk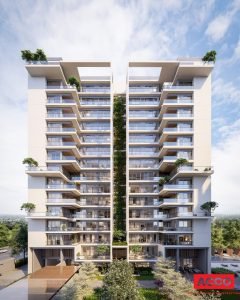 Scope of services: Interior design, Architectural design
Types of Built Projects: Retail, Residential, Commercial, Institutional, Cultural, Entertainment
Locations of Built Projects: Karachi, Lahore, Gwadar, Islamabad, Baluchistan
Style of work: Designing places that are vibrant and vital and designing and developing buildings that understand and complement their surroundings.
Website: www.aliarshadassociates.com
Scope of services: Interior design, Architectural design
Types of Built Projects: Retail, Residential, Commercial, Institutional, Cultural, Entertainment, Healthcare, Mixed-use
Locations of Built Projects: Karachi, Lahore, Gwadar, Islamabad, Baluchistan
Style of work: Practical and Simple – solving the function and give it form & shape that exudes simplicity. Form and shape of the project, that one opens the door to a universe of materials and colors.
Website: www.asa.com.pk
Scope of services: Interior design, Architectural Design, Planning, Branding, Graphic design
Types of Built Projects: Retail, Residential, Commercial, Entertainment
Locations of Built Projects: Karachi, Lahore
Style of work:  Aiming to push past traditions in order to deliver cutting-edge designs.  Not the typical out of the box thinkers; their main objective is to venture beyond innovation, into a place where pushing boundaries is standard.
Website: www.coalesce.pk
Consultants Group
Scope of services: Interior design, Architectural design, Project Management, Urban design
Types of Built Projects: Retail, Residential, Commercial, Institutional, Healthcare, Industrial, Recreational, Infrastructure
Locations of Built Projects: Karachi, Lahore, Gwadar, Islamabad, Baluchistan
Style of work: Giving each client and every project a high level of professional attention that meets or exceeds their expectations.
Website: www.consultantsgroup.com.pk
Scope of services: Interior design, Architectural design
Types of Built Projects: Residential, Commercial, Institutional, Healthcare, Industrial
Locations of Built Projects: Karachi, Hyderabad
Style of work: Unique – encompassing a spectrum ranging from traditionally ethnic to modern & contemporary.
Website: www.cubedesignstudio.org
Cubic Feet Design
Scope of Services: Architectural Design, Interior Design, Architectural Visualization.
Types of Built Project: Residential, Hospitality, Public Spaces
Location of Built Projects: Muscat, Karachi, Peshawar.
Style of work: Strives for cost effective design and achieving client's desires.
Website: www.thecubicfeetdesign.com/